The total value of UK retail sales in 2017 was £366 Billion. A huge figure. Internet sales made up 16% of that figure in 2017, and e-commerce sales are forecast to jump up as high as 18% by the end of 2018.
But speak to any business owner, e-commerce director or marketing director and they will tell you their business could do better.
With smartphone technology advancing at an astonishing rate, and better, easier payment systems, improving e-commerce sales is a bit of moving target. But one variable remains the same: your audience. Tap into their behaviours and online purchase methods, apply the logic to your website and checkout funnel, and you should start to see the needle move when it comes to retail sales.
So if you're looking for some fresh retail tactics for 2019, here are 8 e-commerce tips we've put together, based on what we've seen around the web, and what we've implemented for clients.
1. SHOW CREDIBILITY
A simple but often overlooked tactic. Why not show certifications, reviews and awards on key parts of the customer path through your website? With Brexit looming, the UK is in a fragile state when it comes to consumer spending, so why not give them a little boost of confidence by knowing they are in safe hands when visiting and transacting on your website? The screen shots below are taken from Outdoor & Country, and Yellow Zebra Safaris.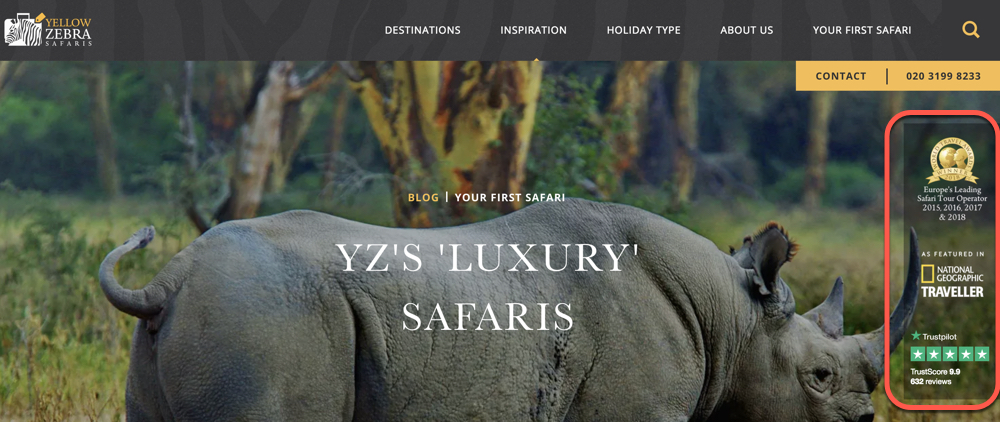 2. USE SOCIAL PROOF
Think of social proof as persuasive, clever word of mouth. Mixed with FOMO. Implementing social proof is a way of showing your potential customers that a product or service is popular and in demand. This can be used for travel and retail sites, and we see it frequently on sites such as Booking.com and the Trainline. If you are a WordPress user, there are several plugins that can help with social proof. Check out WPFomify, Beeketing, or search online.
3. SCARCITY
If you know a product or service is in high demand, you are far more likely to buy it, right? That's the theory behind scarcity. If you find out that jacket you've been watching has suddenly become the last one in stock, and you won't find the same jacket at the same price anywhere else on the web, you would purchase it immediately, right? Of course you would. Scarcity is a clever tactic used by many retailers, including Amazon. Again, if you're on WordPress or another mainstream platform, check out this article which has a nice roundup of different plugins with different scarcity features.
4. USE INCENTIVES
Probably the most common of all the tactics listed, incentives can be deployed in various forms, from promo codes and email sign ups to free delivery and time-based incentives. By capturing data (GDPR compliant data we should say) through your incentive mechanism you can then reuse this data within email marketing and remarketing campaigns. This is the type of incentive we use for OOSC Clothing, shown below, and we also like the incentives used by Country Attire.
5. EXPECT ERROR
Whereas the other tactics in this list may require add-ons or plugins, this tactic is more of a tweak to your current checkout or booking process. Expecting error is all about stripping the checkout process back to basics. Can the average Joe Bloggs checkout simply and easily using a desktop and a mobile? Run user tests on different platforms and devices, and amend your prompts accordingly. We found the Trainline does this superbly (for any Trainline analysts reading this, we did actually book a train ticket in the same session, but for the weekend after).
6. TRY ANCHORING
Anchoring is quite a common retail tactic, but can often by overlooked and not executed correctly. The kind of anchoring used in this example – price anchoring – is a great tactic and tool to have in your arsenal.
Price anchors are essentially used to guide your customers to make a purchase decision, and speed up indecisiveness. It allows the user to quickly compare different prices and make a snap judgement about whether they are getting a good deal. This is a common tactic used by many retailers, including ASOS, when stock is on sale for example.
7. BUY NOW, PAY LATER
A phrase you know well. Except we're not talking about buying a sofa or a really expensive telly. Buy now pay later has been rolling out across your favourite retailers for a while now, and it's been reducing return rates and increasing revenues right under your nose. There are many online payment providers retailers use – PayPal, Stripe, Sage Pay, World Pay…the list is endless. But have you heard of Klarna? They are a Swedish company that have been making waves in UK e-commerce. They work with ASOS, JD Sports, Hype, and we implemented it for OOSC Clothing.
How does it work? Using Klarna, the customer has the option of paying immediately, or paying after a certain period of time, usually 14 or 30 days. So the customer can checkout without paying, receive their items in the post, unbox the products, have a try on, then decide what they want to keep, paying only for what they keep. Klarna also take all the risk too, with customers having to pay them. And if your customers don't pay you, Klarna will.
Now imagine implementing this for Christmas. Customers can buy what they want, and pay in the New Year. Bliss.
8. LUCKY DIP
This last e-commerce tactic is for any retailers with remnant stock that they want to shift. Ideal for fashion retailers, 'Lucky Dip' is a way of surprising and delighting your customers…by not telling them what they're going to receive. Yep, you read correctly. Let's say you sell spicy cotton shirts online. You've been trying to shift last season stock but they just aren't selling. Lucky Dip is designed to be set up as a product, customers select a size, and they get sent items of last season stock at a discounted price. Voila – you've made some extra sales of old stock and the customer has a surprise in the post.
We implemented this for OOSC Clothing to move some of last seasons ski suits, and it worked beautifully, providing them with sales before new season stock came in.
Got any tactics or tips you want to share? Feel free to add them in the comments below! Thanks for reading.